We are fascinated with Dragons at Pre School.  A Dragon called Dinky wrote a letter to us to tell us more about Dragons.  The letter was a bit burnt around the edges!  It is hard for dragons to write letters when they breathe fire all of the time.  We have been writing letters back to Dinky.  We ask him questions so that we can learn more about dragons.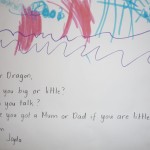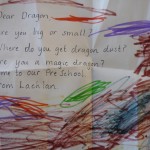 We have made a dragon world in our tray….
We have painted dragons from pictures…
We are loving the Paul Jennings stories about Rascal the Dragon.  We know a lot about dragons.  We dress up as princesses, knight and dragons and play in our box castle.
Now we know all about dragons, next Term we are going to make our own dragon.
We love the Poem called Dragons Kisses and we have all taken a copy home to share.