Every year we have a family night at the end of October.  This year we did a concert for our families and friends.
Tay welcomed everyone to our Pre School.  We sang Bonkers Beat.  Our favourite song of all time!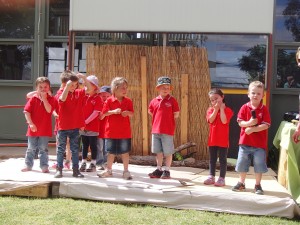 We showed everyone our Chineese Dragon.  We played percussion instruments to chinese music and the Dragon woke up and pranced around.
We sang a song called Three Little Tadpoles to explain the frog life cycle (also from the Bonkers Beat CD)  A very funny thing happened in the last verse of the song,  Mrs Gayle (dressed as a frog in a onesie!) joined the children on the stage.  The children were amazed and almost forgot to sing!  There was lots of laughter.
We did a play about Tiddalik the Frog.  This is an Aboriginal Legend and linked well to our learning about Frogs.  The children used puppets for the animals.
We found partners and did the Heel and Toe Polka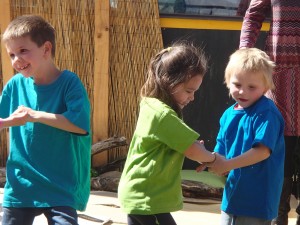 Then we enjoyed a late afternoon tea with our families and friends.  We shared our portfolios and our special books with them.  Thanks everyone for coming along and making it a great event.  It is fun to share our learning with others and we get to feel proud of what we have done during the year.