Yesterday was our third day at Bush Kinder.  We were blessed with a beautiful warm and non-windy day.  We chose today to do a walk around part of Lake Lulla.  It is a salt lake and it is a very beautiful part of our environment.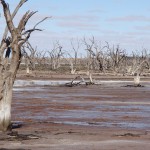 On our walk we found another pile of of dumped rubbish.
We walked in the sand until it became mud.  "I'm sinking"  "It's quicksand,"said Hailee.  The children loved the contrast between the white, crusty salt on the top and the black, oozy (stinky!) mud underneath.  They tasted the salt crystals.  Some layed on the mud flats.  We drew letters and symbols in the mud with our fingers.  We were very very dirty.  We paddled and washed off in the lake.  Some noticed that the salt water made their legs itch and there sores sting.
We found more animal bones.  We spotted kangaroo prints and followed them through the mud.  William (Koorie Educator) showed us what emu prints would look like and how to make a baby footprint.
We were very hungry when we got back to base camp and we ate our snacks and most of our lunch.  Some ate in their cubbies.  Our cubbies were looking worst for wear after two weeks of high wind.  "Our cubbies are destroyed!" said Hailee.
Then William showed us how to paint on bark.  We used brushes to make the backgrounds and then sticks to paint animal tracks.
Then there was some time for quiet contemplation.