One of the children brought some threading they had done at home to share.  We decided we would all like to do some threading.  We all love threading and we like to do it around the table altogether.  We also chat as we go – comparing our progress.  Luke said to the other children, "How did you go at the pool?"  He was commenting on how two children went to the pool after pre school last week.
We have threaded foam packaging with needles……….
We have threaded pasta………….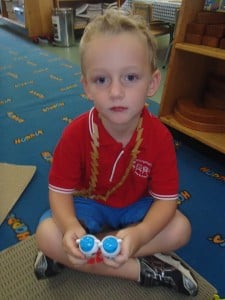 We have threaded beads on pipe cleaners………
and we have threaded cereal onto edible necklaces.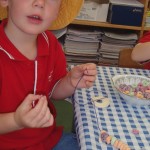 And tomorrow they want to do some more threading   …… so I am going to google threading for some new ideas.
What we (the teachers) have noticed about having small groups of children this year, is the rate they zoom through the activities.  What we would normally have out for two – three  weeks is lasting only a two – three days!  They are going to keep us busy!