For our dough expereince on Wednesday we made bread sticks.  We were amazed to see the dough grow in the warmth of the oven door.  We learnt how to knead. We folded the dough in half and then pushed it with the heal of our hand.  Then we turned the dough and did it again.  To make the bread sticks we had to roll the dough to make a 'snake.'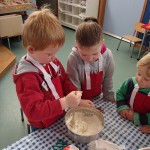 See the persistence through Lilly's dialogue:
I can't do it
Woo, I'm making a big one
This cracked bit always breaks.
I'm not finished ' cos it keeps on breaking.
This is it!  This is it!
Mrs Gayle, this is right!
I still got more.
Love the personal celebration when she got it right!
Then of course there was the enjoyment of eating it in the end.