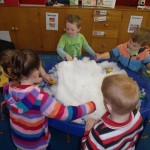 The weather turned really cold during the holidays and today the Pre School children were lucky enough to have a whole esky of snow to play with!  Manangatang is a long way from the snow and this was the first time most of the children had experienced it.
They used plastic trucks and diggers to play in the snow.  We put in some animals that like to live at the snow and Douglas made a snow castle (as opposed to a sand castle) and put a guard on the top!
We had a warm bucket of water to wash and warm our hands in when they were really cold.
Tao did a painting of just white and added some cottonball snowflakes for texture.
Lilly made a snowflake chain with foam packaging bits.
We read stories about snow and one about a bear who was hibernating for the winter.