We are still making magpie traps to catch that magpie that keeps swooping us.  This week we have tried mini wheelie bins…….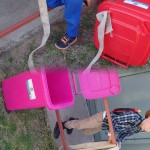 and boxes……
But we still haven't caught him.
Today we read the story Waddle Giggle Gargle by Pamela Allen.  There were some good ideas for distracting a magpie in this story.  I wonder if the children will use some of these ideas next week!  Thank you to Monika for reading the story to us in German.