Each year we hold a concert for our families and community members.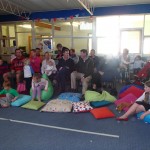 We always have the children make dinner for them.  This year we did a casserole tea.  We spent all Tuesday morning chopping and cooking.  Then we set up all the tables and added the cutlery and serviettes.
For the concert
For our concert this year we sang Bonkers Beat and a German counting song.  We dressed up as robots in our box costumes and sang "I'm a Little Robot."  Our favourite part of our concert was acting out the stories of "The Three Little Pigs" and "Three Billy Goats Gruff".  All year we have loved acting our stories – both in German and in English.
Then we all enjoyed dinner together.
It was great to celebrate with our family and friends.