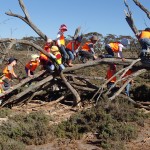 It is Bush Kinder month at Manangatang Pre School.  Unlike other services we run this program for one session per week of the month of October.  This decision has been made because unlike our city counterparts – Manangatang children spend a lot of time outdoors on farms.
We have been preparing for our visit to Lake Lulla (inland Salt Lake) by reading the Photo Books from previous years and other picture story books.  This year we were also fortunate enough to have a visit from Museum of Victoria and we learnt a lot about the wildlife we might see.
We have learnt what to do if we see a snake and we have practiced this routine.  We have talked about wearing sensible clothing and packing lots of food and water.
We invited last years Pre schoolers to Bush Kinder for our first day.  The aim of this was to improve social opportunities for our small group of children, provide another Transition to School opportunity and lastly for last years group to show this years group the possibilities at Bush Kinder.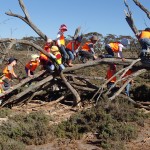 Anders said, "This looks like a good tree to climb." – on our walk to the lake – so we stopped for a while and we did.
We walked to the salt lake.  We saw salt – yes it is like the salt you eat and you can taste it!  We played in the mud flats – stinky, but fun.  We saw 'little rivers' in the mud flowing into the lake.
The wild flowers are out and the children picked some to make little decorations in their cubbies.  We fould our cubbies largely intact from last year – and we played in these.
And we tested our climbing skills to see just how far we felt comfortable going.
Thank you to Mrs MacKenzie, Mr Watson, the Prep/One Class, Ann and Heidi for enjoying the day with us.  Next week our Koorie Educator (Willie) is back and we host Ouyen Pre School at our Bush Kinder.