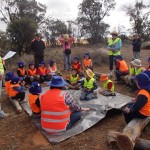 Today we welcomed the children from Ouyen Pre School to Bush Kinder.  They brought lots of parent helpers with them because they had lots of children.
We had a group meeting where we acknowledged the Aboriginal land owners and then we went for a walk around the boundry.  (Did all the adults notice how good the children were with the boundry?)
We had to dimantle and rebuild one of our cubbies because it has been a very windy week in Manangatang and a cubby fell down.
We also had Willie (Koorie Educator) visit and teach us about the didgerdoo, boomerangs and the coolabah.  Willie is a regular visitor to Bush Kinder.
And we did some more climbing – because we love climbing!
Lilly said, "I'm a koala!" as she hugged a tree.
We also noticed the patterns on our logs that Mr Grant kindly put out for us to sit on.  The children said they had been made by wood worms.  Willie talked to the children about termites.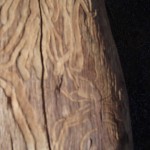 Another amazing day!  Thank you to Louise, Bev, Parents and the Ouyen Children for a wonderful play.