Today at Bush Kinder we had a visit from the Swan Hill TAFE Early Childhood Diploma students.  We had a picnic for morning tea in our Bush Cubbies.  We went for another big walk along the channel bank.  We saw a hawks nest.  It belongs to the hawk we saw last week.
We threaded beads to make a bracelet in the Aboriginal flag colours
We played the didgerdoo and we had lots of goes at throwing the boomerangs.  We are so good at this now.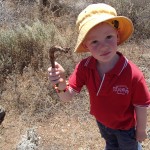 Look found a stick that is the same shape as a boomerang – but it couldn't be thrown very far.  Willie came back and taught us more of the Aboriginal culture.  Thank you to the DPI and Willie for these visits.  You are so popular with the children and we have had lots of comments from parents about their children telling them all they have learned from you.