We have been doing follow up work about Bush Kinder.  This week we wrote (on a mind map) all we know about reptiles (snakes, lizards and turtles).
We learnt a bit more about turtles.  We put a toy turtle and 'turtle eggs' (white pom poms) into a container of sand and we had to find them with tongs.  We discussed how the baby turtles have to look after themselves as soon as they hatch.  And we did some collage to make turtles using shells.
First we made paper plate turtles and put shells for the shell pattern on the turtles back.
Then we covered canvas' with glue and went to the sand put and sand all over to make the background.  Lastly we made turtles using shells and added them to the sand.
They look really good.
Next week we are going to learn a bit more about lizards.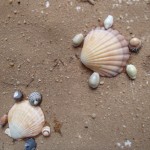 I am going to ask the children to draw what they know about turtles on some paper next week for their individual folios.