This weeks learning about reptiles focused on lizards.  Mrs Grant was lucky enough to find a baby Gecko in her car on the way to work today!  And she managed to catch it.  We made him a habitat from rocks, bark and sand – with the plan of releasing him into the dry creek bed when we went out to play.  Unfortunately he escaped his habitat and is now hiding somewhere in the room.  I am sure we will meet him again some day soon!
We had fun making lizards in various ways this week.  Firstly we used pipecleaners twisted together to make the legs and icy pole sticks for the body.
Then we wrapped wool around cardboard lizard shapes – which required concentration and co-ordination!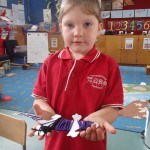 Did you know that lizard starts with 'L' like Lilly and Luke?
We have learnt that lizards camoflauge well in bark, they eat insects, their skin doesn't stretch and grow with them like ours does – they have to shed it, lizards come in all sizes and that geckos can lose their tails like drop-tailed lizards.