This week we went to the hospital and performed our Christmas Play. (We also did it for the parents on the last day)  They children did very well and the hospital residents enjoyed our visit.
Then we cooked a traditional Christmas lunch of Roast Chicken and Vegetables and Trifle.  It was delicious.  Mrs Vine came to join us for lunch.  We set the table with cutlery and decorations and share stories as we ate.
We went outside and had fun with the amazing Christmas Tree Pinata made by Lilly's Mum.
And we had our presentation of folios and Graduation Certificates.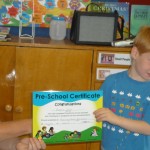 Thank you to the children and families for a great year at Pre School.  We will miss you all when you go to school.
Have a Merry Christmas and a Happy New Year.  Enjoy your first year at school and don't forget to come and visit.  Gayle and I like to keep in touch.
Merrilyn