During the holidays I went to the Philippines for three weeks.  During our holiday we went for trek to Mt Pinatubo (last erupted in June 1991)  On the way we passed a child (4-6 years and very much alone) playing with rocks on the side of the track.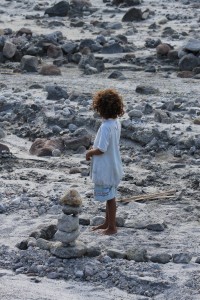 You will notice that she has a tower of stones that she has ensured are well balanced and a fort like structure around the tower.  She had also built similar structures beside this one.
I found myself reflecting a lot on this image as I completed the 14 km trek that day.  Where were her parents/carers?  Was she enrolled in school?  Was there anyone to share her achievements with?  Was there anyone to help her add to this experience?  What was her motivation?  Does any of this really matter when children are playing?  Why do we (as teachers) prattle on so much during children's play?
So on my way home from Adelaide airport we stopped on the side of the road and collected rocks (thanks Tim!) and I have set them beside the sand pit to see what the children will do.
So far this is what Jack has done…..
So maybe now I will prompt the children with a photo of this little girl and see what happens – but I'm going to stand back and not say much!