Last week a past parent (Thanks Mel) brought us in a television frame and some bubble wrap.
Darcy said we could make puppets.  Danielle (who was co-educator for the day) said "Puppet TV".
We had to make some puppets.  Mrs Grant did her research on Pinterest and showed some pictures to the children.  We made four different sorts of puppets for Puppet TV.
Then Mrs Grant and Rebekka (co educator for the day) did a great demonstration of a puppet show for the children.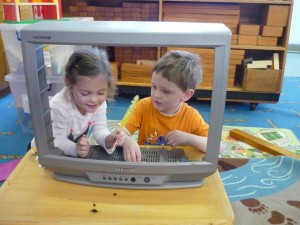 And we have had great fun making up Puppet Shows for our friends.