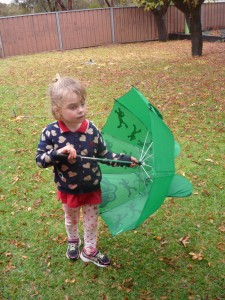 When the rain came this week we were prepared.  Cobi brought her umbrella to Pre school.  We found some more umbrellas and went outside to experience the 'joy of rain'.  (When you live in the heart of dry land farming, rain is truly a joy!)
We celebrated with a few activities and stories.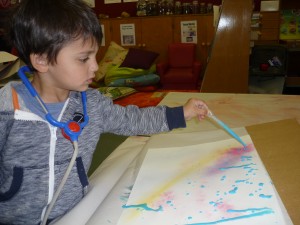 We made collage.  First we made rainbows using cotton balls to rub on dry powder paint.  The we mixed two parts PVA and one part water with a few drops of blue food colouring to make the rain.  We put our pictures on a 45 degree angle and dropped 'rain' at the top of the page and watched it run to the bottom of the page to create the rain.  Then we stuck on a few cottonball clouds.  The children were really concentrating while using the droppers.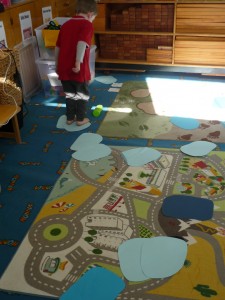 We put cardboard 'puddles' on the floor for the children to jump in – once again practicing our jumping and leaping.  Then we made 'rainsticks' from decorated cardboard tubes and rice.