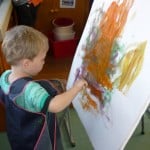 Every term we invite the Playgroup children and Parents for a play at Pre School. It is an important part of our transition program and it allows teachers to get to know the families before they enter the service. But most importantly, they children have many opportunities to come to Pre School and become familiar before they turn three or four.
Today we had our playgroup session. It was beautiful weather and the children enjoyed some inside and outside time.
Painting was a favourite activity.