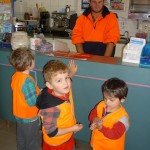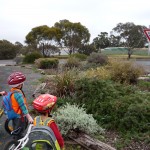 One of the advantages of having a small group and living in a rural community is that we have lots of opportunities to get out and about. This week we have been talking about Road Safety. We have been learning to recognise signs and have used our toy signs in our play indoors with trains and outdoors with our bikes. The children already knew STOP and GO.
We brought our bikes and helmets to Pre School and then we went for a ride around town. First we went to the hospital. We said a quick hello to the residents and sang them a song. Then we went around past the police station and on to the town hall. We ended up at the main street. We visited the Post Office and got two Pre School parcels. Then we went to the shop and we bought our own lunch. We sat on the chairs outside to eat it. Finally we ended up at the park and we had fun on the skateboard ramps with our bikes.
We saw some signs and symbols along the way. Everyone will sleep well tonight after all that exercise!
Many of our children live on farms and don't have any sealed areas to ride their bikes – so organising a day like today is a lot of fun for them. The opportunity to visit local services and shops helps us to connect with our community and lets our community learn about us.