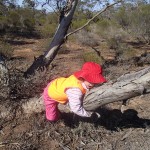 We went for a big walk today to the dry channel and the children had a lovely time running up and down the channel bank and sliding down on their bottoms. On our walk we found a huge pile of rubbish that someone had dumped there. Amongst the rubbish was a toy koala. Willie put the koala up in a tree. Then Cobi called out to Mrs Gayle, "Look, I'm a koala!" and she was wrapped around a tree. Later she was a kangaroo and a Tassie Devil.
Then we did some tree climbing. Aidan said "Mrs Grant I'm stuck. I can't get down." Jasper said "You can. Go backwards and be a brave boy." And so he did!
We had a go at throwing boomerangs and spears as well as using the calling stick (ie telephone!)
Thank you to Willie for visiting us again and sharing your stories and culture. We told Willie how we read the Aboriginal Legend about "How the Murray River was made." Willie knew it was made by the Rainbow Snake. Darcy said, "How did you know that?" Willie explained how the stories are passed through the generations. This is all amazing learning for the children.