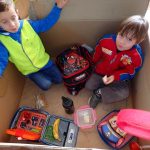 This week we had visitors from the Sea Lake Pre school come to Pop-up Adventure Play. It was fun to have so many children to play with. The Manangatang children practiced their friend making skills and all of the children made new friends during the session.
We did lots more box play with our cubbies. Some of the children made some more Mother's Day gifts to take home.
The favourite activity today was to run around with plastic bottles tied to string. There was lots of running between the showers of rain.