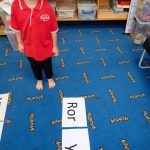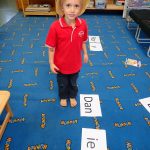 Today we showed the children how to take steps or jump to match the syllables of their name.  (This is a Learning Game based on the Abecedarian Research.)
This will increase their awareness of the parts that make up words.
Why this is important?
The actions of children's bodies can help them pay attention to the sounds of words and parts of words. When children learn through their body as well as their mind they understand it better. Hearing and responding to the smaller sound units in words (syllables) is part of the foundation of reading and spelling.