Curriculum: Reggio Emilia Approach and Emergent Curriculum
We are using a bit of both approaches at our centre.
Reggio Emilia Approach:
Reggio Emilia is a city in Northern Italy.  After WW2 the government gave each city a small amount of money to build something to help reconnect their community.  The city of Reggio Emilia decided to build a Kindergarten.  During the day the women would collect and clean bricks from bombed out building and after work and at weekends the men built the building.  From here they have developed a model for early years education that is outstanding.
They develop their curriculum on the basis of four types of projects:
 Project Themes – Done by all children over three years.  Decided by staff after careful consideration. (Colours, Books, Messages, Identity and Relationships)
Environmental Projects – Grow from the classroom.
Daily Life Projects – Daily Routines
Self Managed Projects – Children initiate and complete independently or with a friend
A project acknowledges that:
–          Knowledge building is not linear
–          Construction of knowledge is a group process
–          Children produce their own theories from which they take inspiration
Projects require thought, planning, preparation, execution and documentation.
Key Ideas:
–          Relationships – acknowledges we learn in a social context
–          The environment is the third teacher – environment invites investigation
–          Transparency – making the most of light using mirrors, glass etc
–          Provocation – Provoke thought and action from the children
–          Collaboration – working together
–          Respect
–          Reciprocity – valuing interaction and exchange of ideas
–          Documentation – to articulation the learning to children and others
–          Valuing Pre Schooler's work in the community
–          Rich sensory experiences enhance aesthetic awareness
–          Teachers, parents and children form a community of learners
–          Provide a variety of high quality of materials
–          Environment should be aesthetically pleasing
–          100 Languages of children – children representing ideas in many ways
The Emergent Curriculum:
What is Emergent Curriculum?
–          Encouraging children to be responsible for their own learning (choices in experiences, interests and routines)
–          Using conversations, actions and play as a basis for teaching
–          Children are partners in learning (seeking opinions, thoughts and questions)
–          Becoming independent by assisting with routines and proving choices
–          Involving children in interest based projects
–          Involving families as partners
–          Promoting positive relationships
–          Using the physical environment as the third teacher
–          Giving children control over their day.
Children are developing skills such a self-help, cognition, decision making, problem solving and physical development.  Learning the importance of sharing, co-operating, turn taking and tolerance.  Encouraging children to express their feelings, needs, wants, opinions and ideas and respect these in others.
At Our Centre: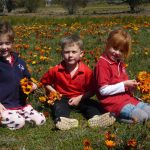 Our Service received and Assessment & Rating of EXCEEDING in all 7 Areas in December 2014.
Summary Comments:
This service is performing at Exceeding national Quality Standard.
The respectful and caring relationships demonstrated with children and families enabled open collaborative partnerships to consistently enhance each child's learning, development and wellbeing.
The pedagogy of the educational leader promoted quality learning environments and empowered children to move freely around the indoor and outdoor programs, with opportunities to make decisions and choices consistently about their learning and development. Effective use of intentional teaching strategies and opportunities for children to engage in play and leisure experiences were the foundation of the program.
The management and leadership of the service effectively contributed to the quality operation of the service with clear lines of communication observed among the educators creating a positive workplace and learning environment for the children.
The service is to be acknowledged for its positive participation in the assessment and rating process.